Every human needs sleep. You've probably experienced the effects of not getting enough good sleep for a few nights – you may find yourself more irritable, less able to focus, more tired during the day, and overall just less productive and happy. And long-term, poor sleep quality can lead to more severe health issues like high blood pressure, diabetes, and depression, and could increase a person's risk for heart attack and stroke (Colten & Altevogt, 2006). Clearly, sleep is important for daily functioning, but some things can negatively impact sleep duration and quality such as insomnia and anxiety disorders like PTSD. People often find their own ways to combat sleep issues with over-the-counter supplements like melatonin or medically prescribed drugs like benzodiazepines. Although scientific evidence of its effects are mixed, people are increasingly turning to cannabis to help them sleep. This use of cannabis introduces new questions of effectiveness and health outcomes. Could cannabis be an effective treatment for sleep disturbances caused by insomnia and anxiety? What are the short- vs. long-term effects of cannabis use on sleep? And how might dreams be affected?
During a normal night, we cycle through 4 different stages of sleep, categorized by varying brain activity patterns. Our wakeful state transitions into sleep during the 1st stage (N1), which occurs when a person first falls asleep and the body has not fully relaxed yet. Stage 2 (N2) sleep comes next, with some body systems such as respiration and heart rate slowing down. The N3 stage is referred to as slow-wave sleep (SWS) or deep sleep, when the body is in its most relaxed state and restorative processes are thought to occur. Rapid eye movement (REM) sleep is the last stage, in which brain activity increases and muscles are temporarily paralyzed, except for quick movements of the eyes. REM sleep is responsible for more vivid dreams and is thought to contribute to cognitive functions like memory, learning, and emotions (Maquet et al., 1996).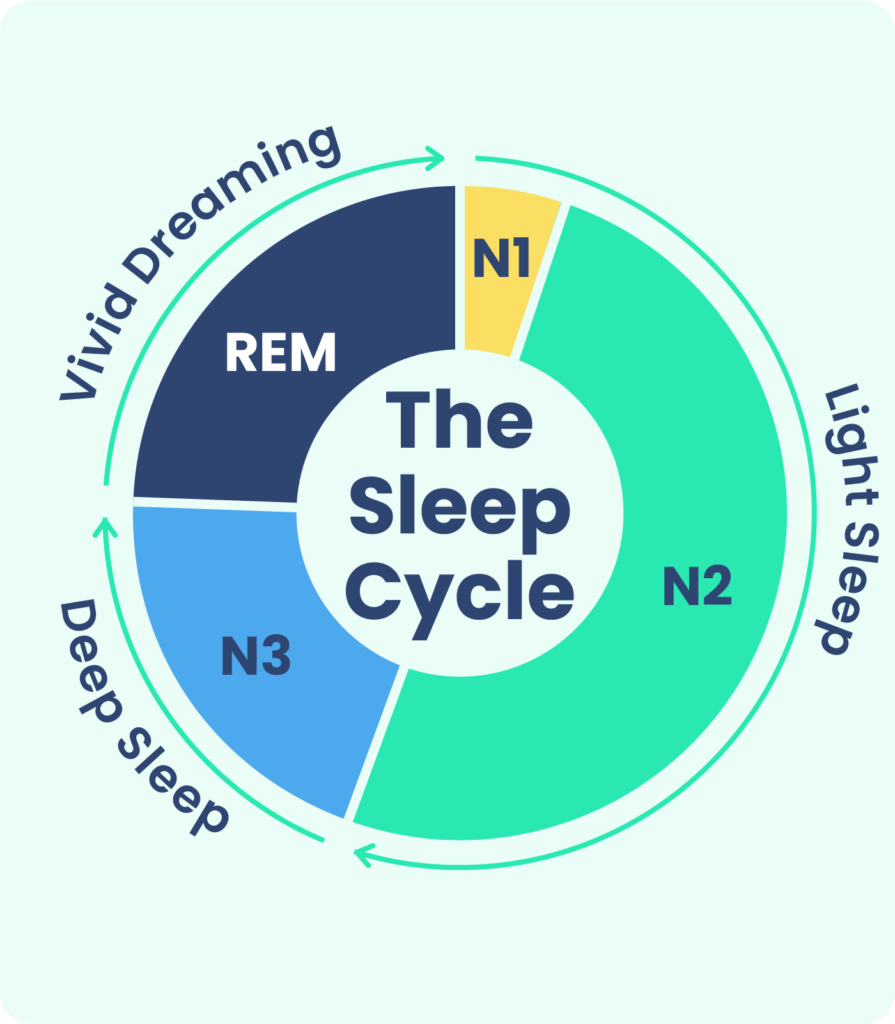 Endocannabinoids–cannabinoid-like signaling molecules that are naturally produced by the body–are involved in the regulation of the sleep cycle. The endocannabinoid system is important for the maintenance and promotion of sleep through its connections with the circadian rhythm cycle. Endocannabinoid CB1 receptors exist in the suprachiasmatic nucleus (Acuna-Goycolea et al., 2010), which is thought of as the body's central pacemaker, so the endocannabinoid system may act as a link between circadian regulation systems and the connected sleep process (reviewed by Babson et al., 2017). There isn't much information known about the effects of cannabinoids on circadian rhythms or the mechanisms by which cannabis and its constituents affect sleep systems. However, it seems as though the dosage, type of cannabinoid, and duration of use all play a role in the effects of weed on sleep.
In the case of cannabidiol (CBD), a non-psychoactive compound in the cannabis plant, effects appear biphasic based on dosage. According to a review by Babson and colleagues (2017), low doses of CBD are associated with increased wakefulness, while higher doses can increase total sleep time and decrease the risk of waking up during the night. On the other hand, one study on the anxiolytic effects of CBD saw no impact of a single dose of the drug on sleep, meaning that it did not interfere negatively with the sleep cycle in any way (Linares et al., 2018).
Cannabis containing tetrahydrocannabinol (THC), the plant's main psychoactive component, has an even wider spectrum of effects on sleep. THC may help people fall asleep faster, prevent waking up during the night, and increase deep N3 stage sleep (Cousens & DiMascio, 1973; Pivik et al., 1972). However, some people become reliant on marijuana to fall asleep. When cannabis is used for long periods of time, dependence and habituation can develop, leading to a need for higher and higher doses necessary to have the same pro-sleep effects. Additionally, disturbed sleep is a main withdrawal symptom of people with cannabis dependence, and it is cited as a major cause of relapse in those attempting to quit or minimize drug use (Budney et al., 2008).
It appears as though short-term use of cannabis may improve sleep quality, while chronic cannabis use can have negative long-term impacts on sleep. However, despite the mixed results, cannabis may be a beneficial treatment for sleep disturbances caused by certain disorders. One study found that subjects with insomnia that were given CBD were able to sleep for longer and woke up less often (Carlini and Cunha, 1981). Additionally, nabilone–a synthetic cannabinoid–has been found to reduce nightmare presence and intensity in people with PTSD, allowing them to have better sleep duration and quality (Fraser, 2009). Cannabinoids may contribute to decreased recall and vividness of dreams because of their potential to decrease REM sleep (Carlini and Cunha, 1981; Pivik et al., 1972). Although we do not know exactly what effects (if any) worsened dream recall has, this is a therapeutic benefit for people suffering from vivid, PTSD-induced nightmares.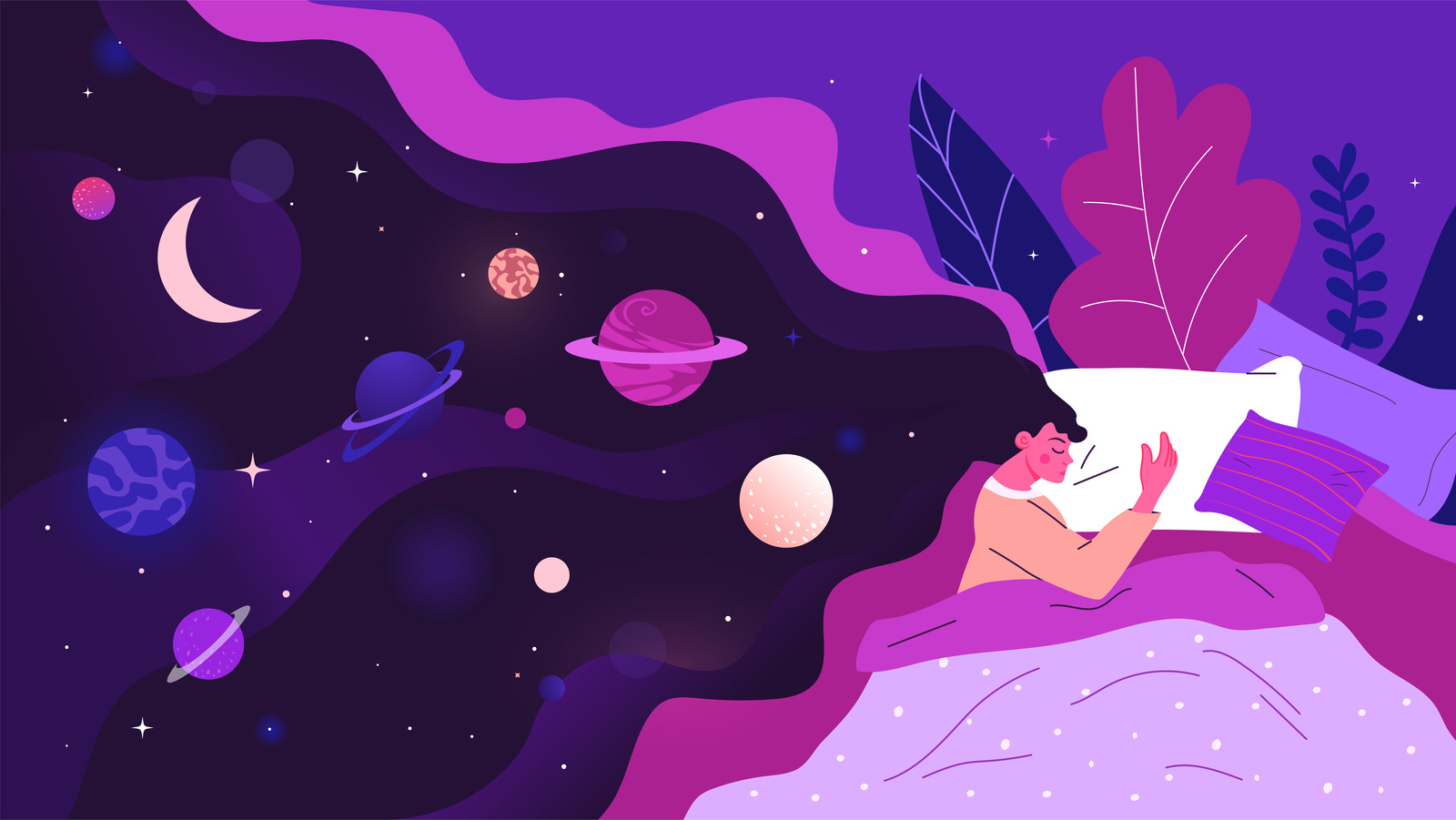 While cannabinoids may have mixed impacts on the quality of sleep based on plant components, dosage, and chronic use, there is a clear therapeutic potential for the sleep-disturbing symptoms of certain disorders. Other anxiolytic and antidepressant drugs prescribed for anxiety-based disorders can often disrupt sleep on their own, along with other undesirable side effects (Linares et al., 2018). More research needs to be done on the effects of different types of compounds on different facets of sleep, but acute use of cannabinoids like CBD could be a promising treatment for sleep-disrupting disorders.
References
Acuna-Goycolea, C., Obrietan, K., & van den Pol, A. N. (2010). Cannabinoids excite circadian clock neurons. Journal of Neuroscience, 30(30), 10061-10066. https://doi.org/10.1523/JNEUROSCI.5838-09.2010.
Altevogt, B. M., & Colten, H. R. (Eds.). (2006). Sleep disorders and sleep deprivation: an unmet public health problem. National Academies Press (US). https://www.ncbi.nlm.nih.gov/books/NBK19961/.
Babson, K. A., Sottile, J., & Morabito, D. (2017). Cannabis, cannabinoids, and sleep: a review of the literature. Current psychiatry reports, 19, 1-12. https://doi.org/10.1007/s11920-017-0775-9.
Budney, A. J., Vandrey, R. G., Hughes, J. R., Thostenson, J. D., & Bursac, Z. (2008). Comparison of cannabis and tobacco withdrawal: severity and contribution to relapse. Journal of substance abuse treatment, 35(4), 362-368. https://doi.org/10.1016/j.jsat.2008.01.002.
Carlini, E. A., & Cunha, J. M. (1981). Hypnotic and antiepileptic effects of cannabidiol. The Journal of Clinical Pharmacology, 21(S1), 417S-427S. https://doi.org/10.1002/j.1552-4604.1981.tb02622.x.
Cousens, K., & DiMascio, A. (1973). (−) δ 9 THC as an hypnotic: An experimental study of three dose levels. Psychopharmacologia, 33, 355-364. https://doi.org/10.1007/BF00437513.
Linares, I. M., Guimaraes, F. S., Eckeli, A., Crippa, A. C., Zuardi, A. W., Souza, J. D., … & Crippa, J. A. (2018). No acute effects of cannabidiol on the sleep-wake cycle of healthy subjects: a randomized, double-blind, placebo-controlled, crossover study. Frontiers in pharmacology, 9, 315. https://doi.org/10.3389/fphar.2018.00315.
Maquet, P., Péters, J. M., Aerts, J., Delfiore, G., Degueldre, C., Luxen, A., & Franck, G. (1996). Functional neuroanatomy of human rapid-eye-movement sleep and dreaming. Nature, 383, 163-166.
Pivik, R. T., Zarcone, V., Dement, W. C., & Hollister, L. E. (1972). Delta‐9‐tetrahydrocannabinol and synhexl: Effects on human sleep patterns. Clinical Pharmacology & Therapeutics, 13(3), 426-435. https://doi.org/10.1002/cpt1972133426.